Believe it or not, there was a major silver lining for travel even during the worst of the pandemic: Airlines went to extraordinary lengths to give travelers more flexibility. Had a flight scheduled that you didn't want to take? You could change it without hefty fees – or cancel it and get a voucher.
But now, that free change free-for-all is over. As travel rebounded, airlines ended that practice. The cheapest basic economy fares no longer can be changed or canceled, period – or you'll pay a sizable fee to do so. Fortunately, you can still get free change and cancellation on your flights … you'll just have to pay a bit more for it.
In the midst of COVID-19, airlines permanently ditched change fees: first on domestic tickets, and then on international trips, too. But on nearly all airlines, basic economy fares no longer qualify. So if you want that flexibility, you'll have to pay a bit extra for a main cabin ticket. In many cases, that additional flexibility can easily be worth the extra $50 to $70 above what you'd pay for basic economy.
Want a full refund instead of a voucher for future travel? Read our guide on getting refunds from your airline.
Here's a look at how each airline handles changes and cancellation policies now.

U.S. Airlines' Change Fee Policies
Alaska Airlines Cancellation Policy
For more than a year, Alaska offered free change and cancellation on any flight, from a first class ticket to even the cheapest basic economy fare. But those days are over.
Now, you'll need to buy at least a main cabin fare with Alaska to be able to change or cancel for free. New Alaska basic economy fares (which the airline calls "Saver fares") can no longer be changed or canceled.
American Airlines Cancellation Policy
American Airlines ended the free change free-for-all earlier than almost anyone.
While its competitors extended those policies much farther, American let it lapse way back on March 31, 2021. American basic economy fares purchased from April 1, 2021 and onwards can't be changed or canceled.
That means you'll have to buy at least a main cabin fare to get a one-time free change or cancellation when flying with American.
Read more on American's policy.

Delta Air Lines Cancellation Policy
Delta was one of the first major airlines to extend free change and cancellation to any ticket. These days, it's a bit more complicated.
Like other major U.S. carriers, Delta has done away with change fees so long as you buy a main cabin economy fare or higher. That means you can change flights without paying a fee (though you'd be on the hook for a fare difference) or cancel and get a Delta eCredit. Delta main cabin fares typically cost $50 to $70 more roundtrip within the U.S. – or $150 or more for most long-haul international flights.
But the airline has done something a bit different with Delta basic economy: Flyers buying its cheapest tickets can cancel … for a fee.
Canceling a flight within the U.S. or to Mexico, the Caribbean, or Central America will cost $99. To cancel a long-haul international flight, it'll cost you $199. That means canceling a $250 flight from Minneapolis-St. Paul (MSP) to Denver (DEN) would get you a $151 Delta eCredit. For a $700 flight to Amsterdam (AMS), you'd get just $501 in eCredits.
That's more flexibility than these fares had prior to the pandemic, as they couldn't be changed or canceled, period. Still, it might be worth paying a bit more to get free change and cancellation – plus all the other perks like free seat assignment and earning Delta SkyMiles.
Read more about Delta's policy.

JetBlue Cancellation Policy
JetBlue was the last major U.S. airline still offering free change and cancellation on all fares. But those days are over, too.
You can still change or cancel any newly booked JetBlue basic economy fares. Like Delta, you'll just have to pay for it.
More expensive Blue fares and up can still be changed or canceled for free going forward. But if you buy a Blue Basic fare, you'll forfeit $100 to change or cancel a flight most JetBlue routes – or $200 flights to/from South America or London.
Both cash bookings and award tickets booked with points are eligible. Canceled flights will get a travel credit for JetBlue.
Read more on JetBlue's policy.

Spirit Airlines Cancellation Policy
Even budget airlines are back to normal.
For many months, Spirit waived all change and cancellation fees on its fares. But now, the airline has returned to its normal change fee system, with higher fees to change or cancel a flight the closer you get to departure.
60+ days: Free
7-59 days: $49
3-6 days: $79
0-2 days: $99
Southwest Cancellation Policy
All Southwest tickets can always be canceled or changed without incurring a fee, though fare differences may still apply.

Sun Country Cancellation Policy
Sun Country no longer has a special policy in place to handle change or cancellation during COVID-19. But its normal change policy waives change and cancellation fees for all flights at least 60 days ahead of departure.
Read more on Sun Country's policy.

United Cancellation Policy
United has taken a page out of Delta and JetBlue's book.
The Points Guy previously reported  that United is introducing a new fee structure to cancel its cheapest basic economy tickets. Just as with Delta, you can cancel a United basic economy fare and get a voucher minus a $99 fee for roundtrip domestic flights – or $199 for international tickets.
But considering you can select a seat for free and bring a carry-on, it might be worth paying more for a standard main cabin economy fare. Otherwise, United also allows you to pay to upgrade from basic economy to main cabin.
Main Cabin vs. Main Cabin Refundable Fares
Head spinning yet? It gets worse: You've got even more types of tickets to pick from when buying flights these days.
Once marketed solely to business travelers, airlines have been promoting refundable economy fares to travelers more and more throughout the pandemic. These often cost $70 to $100 more than standard economy tickets. So what's the difference?
Main cabin economy fares can be changed or canceled for free, but you'll get a voucher (which may expire in under a year) if you cancel.
Main cabin refundable economy fares can be changed or canceled for free to get your money back.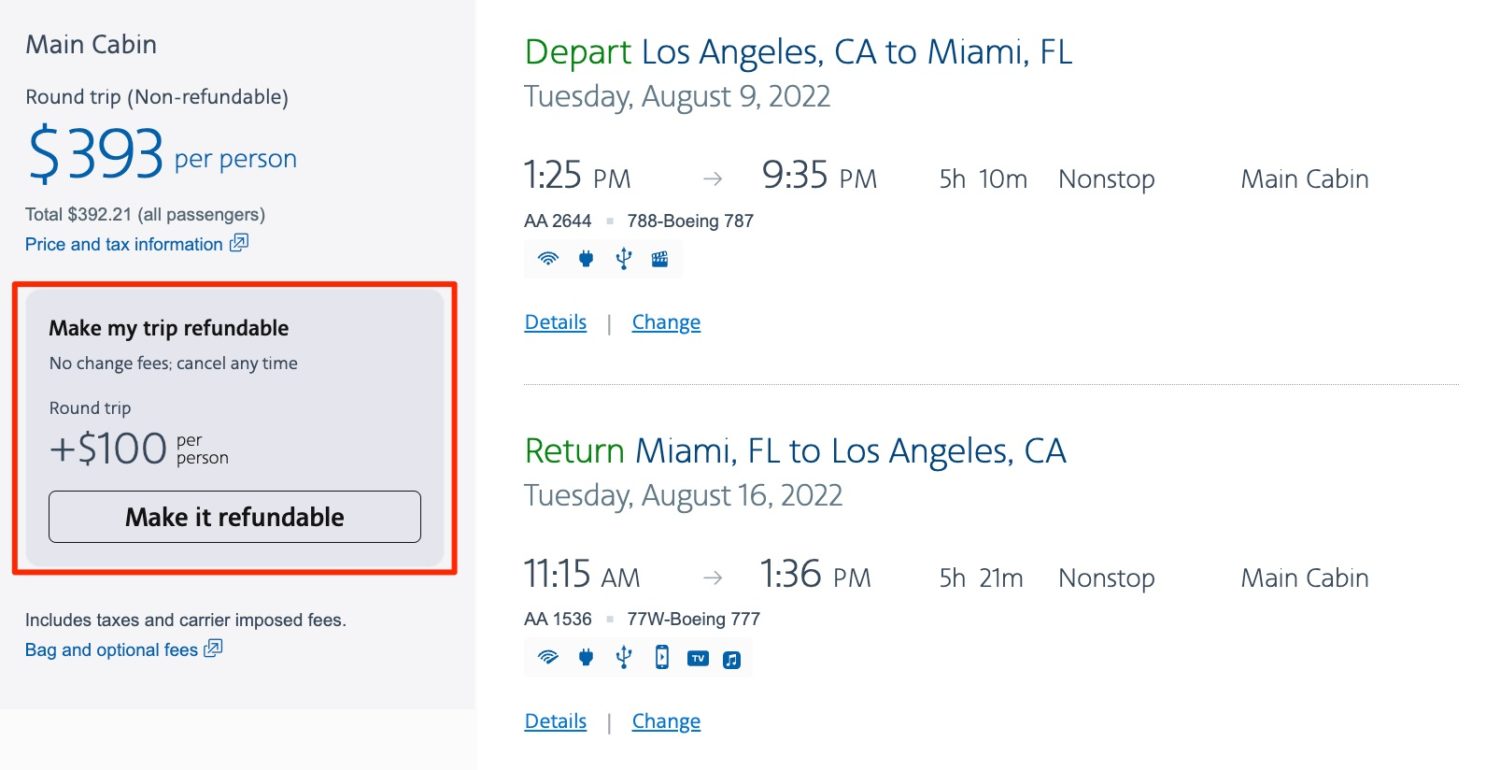 You've got some flexibility either way. If you want to make sure you can get your money back to your credit card – or you're worried you won't be able to put a voucher to use – it might be worth paying more for a refundable.
Otherwise, a normal main cabin ticket can still be canceled for a voucher with your airline.
Free Cancellation on Tickets Booked with Miles?
You're in luck – maybe.
Many of these same major U.S. airlines are applying the same free change and cancellation policies to award tickets booked using miles. But it varies by situation, so read closely.
Alaska Airlines: Alaska is treating award bookings essentially the same as cash tickets. That means any award ticket booked using Alaska miles can be changed or canceled for free to get your miles back. But there's one big catch: That only applies to flights on Alaska itself. Canceling partner award tickets on carriers like Japan Airlines or Cathay Pacific will still incur a fee.
American Airlines: American has completely eliminated its $150 redeposit fees for all award tickets, and canceling online is easy.
Delta: Delta was among the most generous policies for SkyMiles award tickets, with free change and cancellation on any of them. But now, only main cabin award tickets can be canceled without fee – you'll get your miles and taxes and fees back automatically. For Delta's basic economy awards, you'll forfeit 9,900 SkyMiles when canceling a domestic award trip (or to Mexico, Canada, Central America, or the Caribbean) and a whopping 19,900 SkyMiles for international journeys.
Southwest: Same as always, you can change or cancel your flight booked with Rapid Rewards points for free.
United: United allows you to change a mileage redemption without paying a fee, and it will waive redeposit fees for all award travel so long as you cancel more than 30 days before departure.
Bottom Line
Travelers are returning and airlines are climbing their way out of the crisis. And that means the days of unprecedented flexibility when booking flights are over. Even as uncertainty looms over travel, few airlines are willing to go back to the old ways.
But it's not all bad news. Airlines' moves to eliminate most change fees for good means there's still a way to book your flights worry-free. You'll just have to pay a bit more for it.