If you want any chance at cheaper flights over the holidays this year, here's your sign to get started.
Summer's not over yet, and most Americans wait until after back-to-school and football season to turn their attention toward booking flights for Thanksgiving, Christmas, and New Year's Eve. That's a mistake: It's time to get ahead of everyday Americans and start planning now, saving hundreds in the process. 
Whether you're trying to find a flight to meet family or booking a getaway through the end of the year, we're seeing lower prices right now … and expecting those fares to climb in the months ahead. That includes some incredible flight deals for Thanksgiving, Christmas, and New Year's travel this year. From a beachy island paradise in the Indian Ocean to the Christmas markets of Europe, there's something for everyone over Thanksgiving and the holidays.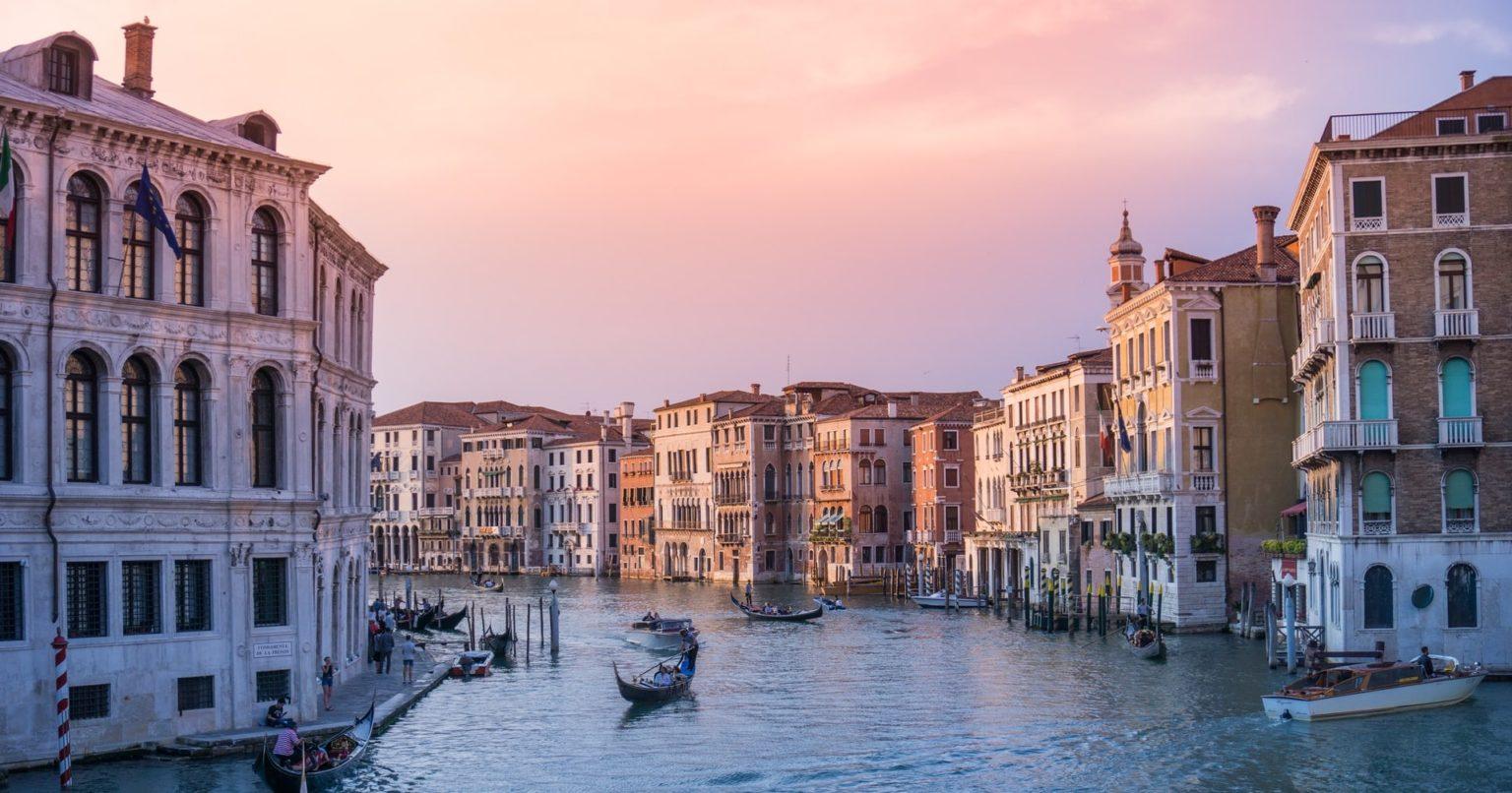 But it's time to start booking. Like…now.
When Should I Book Thanksgiving Flights?
Right now! We're still finding great Thanksgiving flight deals domestically and abroad. But if history is any indication, the best fares are going to start drying up once we get to fall. Book your holiday travel while it's still summer to extract the most value.
If you're booking a domestic trip or flying to join family here in the U.S., it's critical to follow The Flight First Rule. Booking your flights first (before requesting extra time off work) is the key to scoring the cheapest Thanksgiving flights possible – sometimes saving hundreds of dollars even on a quick domestic hop. Here's a quick example.
Let's say you're looking to get from Minneapolis-St. Paul (MSP) to New York City for a Thanksgiving get-together. If you lock in the classic Thanksgiving travel dates – fly in on Wednesday, fly home on Sunday – now, you'll pay for it. Flying nonstop on Delta would cost you at least $738 roundtrip. Ouch.


If you fly home one day earlier on Saturday, you can drop the cost of those flights to New York by almost $200.


And if you fly into New York one day earlier on Tuesday, you can hop on a JetBlue flight instead for just $303 – less than half the cost of your initial search. 


Even at $300 roundtrip, it's not the bargain of the century. But as Thanksgiving draws closer, those prices are only likely to climb higher – airlines know Americans are eager to reunite with family … and are willing to pay for it. That's a recipe for higher fares.
Google Flights is the best tool to search for your Thanksgiving flights – or any flight, for that matter!
Looking to go on an adventure over Thanksgiving? You're in luck: Thanksgiving is one of the best times for cheap international travel. And right now your options are wide open.
Look at this fantastic flight deal we just sent to Ho Chi Minh City (SGN) with availability over Thanksgiving.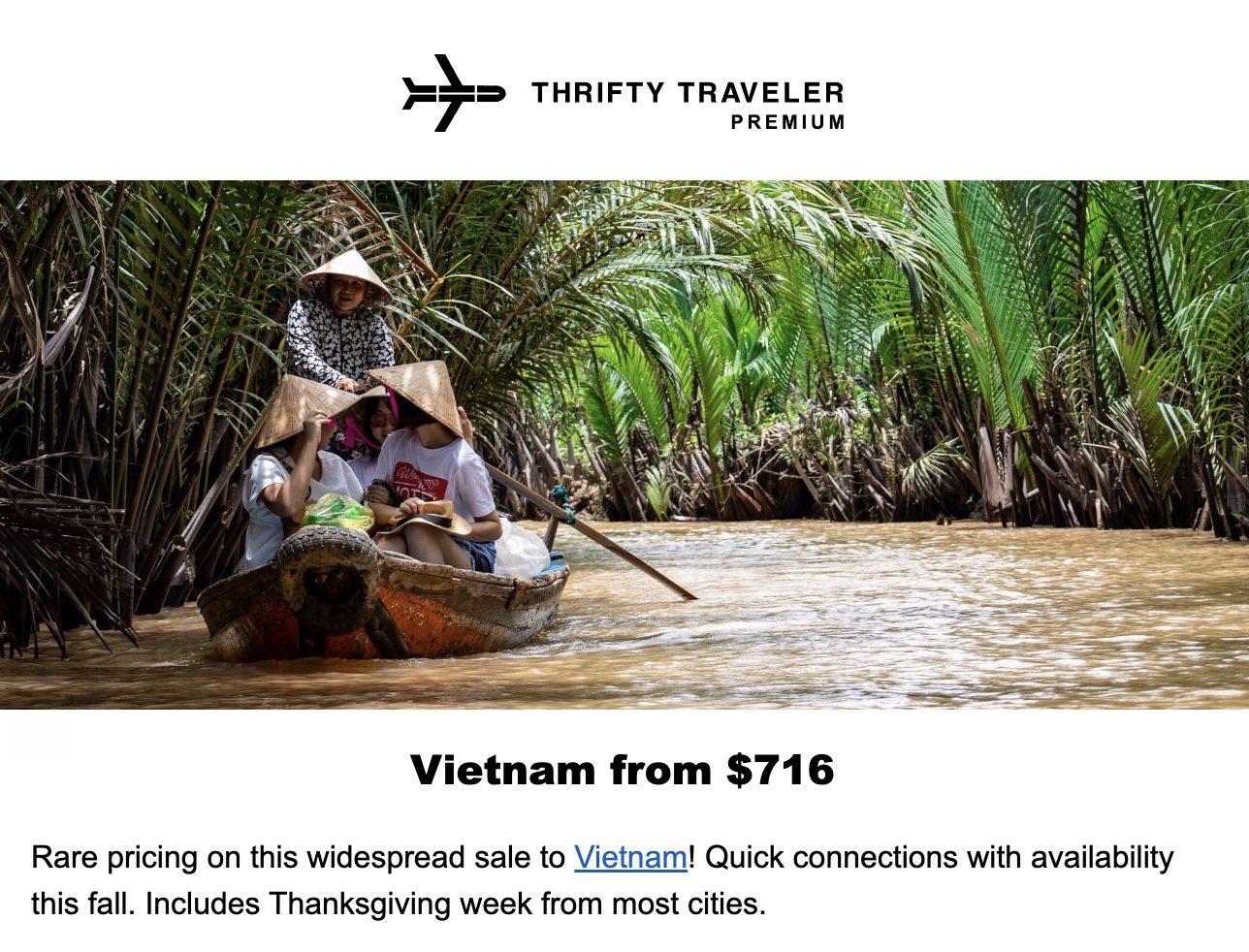 Speaking of rare destinations, check out this fare from a flight deal we sent recently to Zanzibar, Tanzania (ZNZ).

This archipelago in the Indian Ocean is a perfect piece of paradise. If you want to maximize your time off to make the long trip to Africa or Asia, Thanksgiving week is the perfect time to start it.
Where Should I Travel Over the Holidays?
You don't have to go to Tanzania or Vietnam for over the holidays. If you want something a little closer to home, or something completely different, we've found tons of great fares recently and sent them to our Thrifty Traveler Premium members.
Let's start in the Caribbean. Can we interest you in a few days sitting in one of these chairs over the holiday weekend?

These cheap fares are gone now – get the next deal in your inbox with Thrifty Traveler Premium!
Back when we sent this dirt-cheap deal to the Cayman Islands to Thrifty Traveler Premium, you could get there at these prices over Thanksgiving and Christmas. Unwrap your presents, then spend Christmas Day at the beach. Sounds pretty jolly to me!
For many, Europe beckons around the holidays, too. Because they don't celebrate Thanksgiving overseas, it's a quiet and inexpensive time of year in Europe. Take Dublin, for example.

This flight deal we sent out a few weeks ago included Thanksgiving availability for flights into Dublin (DUB). If you celebrate St. Patrick's Day like the Irish do, you could also book this flight for that week, too.
Paris is no different. This latest deal, which included more than 100 small, regional, U.S. airports with service to Paris-Charles de Gaulle (CDG), was wide open during Thanksgiving, too.

Looking for one of our favorite, thriftiest destinations? Give Portugal a try. Either Lisbon or Porto (or both!) would be a perfect way to spend your Thanksgiving break. And with flights under $400, it's hard to say no.

But sometimes, the best price is free – or nearly free. That's exactly what we found with this deal to Fort Myers, Florida (RSW), with Thanksgiving availability from most cities. Just fork over a few thousand SkyMiles and $11.20 in taxes and fees, and you're on the beach.

But if you're willing to spend a little bit extra for a fancier ride on your holiday getaway, we've got you covered there, too. This deal on Delta Premium Select to Europe included Thanksgiving, too – at prices that many travelers expect to pay for an economy seat.

And if a lie-flat ride to Italy is on your bucket list for this Thanksgiving, Christmas, or New Year's, we found that seat for you at bargain prices, too.

Thanksgiving, Christmas, or New Year's travel can take you all over the world. And at prices like this, it doesn't have to be as expensive as you might assume … at least if you search and book soon.
Bottom Line
If you want a good deal on holiday flights, you'd better get booking ASAP!
The best flight prices for holiday travel are still available, but they won't be for long. The savviest holiday travelers are already booking, and we urge you to do the same.
If you're looking to take that long-awaited vacation this holiday season, there are tons of options. And if you're a Thrifty Traveler Premium subscriber, those options are cheaper than ever.