Delta's fantastic new Delta One suites are one of the best ways to fly. You get your own private suite with a closed door, a spacious seat that reclines into a bed, good amenities and great food.
But whether you're using Delta SkyMiles or paying cash, it isn't cheap. Most days, expect to fork over nearly 300,000 SkyMiles or $9,000 or more. There's a better way.
We'll show you how you can fly in style by using a fraction of those miles and just $5.60 in government taxes and fees.
Use Virgin Atlantic Flying Club Instead
Virgin Atlantic's frequent flyer program, Flying Club, is one of our favorite ways to book Delta flights. Thanks to a close partnership between the two airlines, it's easy to use those Flying Club miles to fly on a Delta plane. Time it right, and you can save a boatload of SkyMiles on almost any flight with this workaround.
But the savings are astounding if you're looking to fly business class to Europe or Asia. While Delta frequently charges more than 200,000 SkyMiles for a one-way flight to Europe in Delta One, you can book the exact same flights through Virgin Atlantic for just 50,000 miles.
At those rates, you could book a luxurious, $10,000 flight to Europe with just a single credit card bonus. And there are some great travel rewards cards out there that you could use to earn the miles and book the flight before paying the annual fee. That keeps your cost for the flight at just $5.60!
Of course, you'll need some Virgin Atlantic miles to make that happen. Luckily, that's easy as can be, as you can transfer points from a stash of Chase, American Express, or Citi directly to your Virgin account. You can earn those transferrable points from cards like The Platinum Card from American Express or American Express Gold Card – a co-branded Delta card like the Delta SkyMiles Gold American Express Card won't cut it.
Your best bet to keep this insane deal as cheap as possible is the Chase Sapphire Preferred card. But if you're following our rules for opening a new credit card, these are normal expenses you'd have to pay anyway. You should never buy things you don't need or spend money you don't have in order to earn points – that's a recipe for debt and disaster.
You need just 50,000 Virgin Atlantic miles to book a Delta One Suite to Europe. Heading to Asia? It's just 60,000 miles and you'll have your own suite for the 12-plus hour flight.
But before you cancel the card or transfer your points, you need to make sure you can book these flights at low rates. Keep reading.
Where to Fly in a Delta One Suite
First things first: You need to fly somewhere that Delta has these swanky suites on board.
That's always growing as Delta keeps adding to its fleet of sparkly new Airbus A350s and continues to refurbish its Boeing 777s.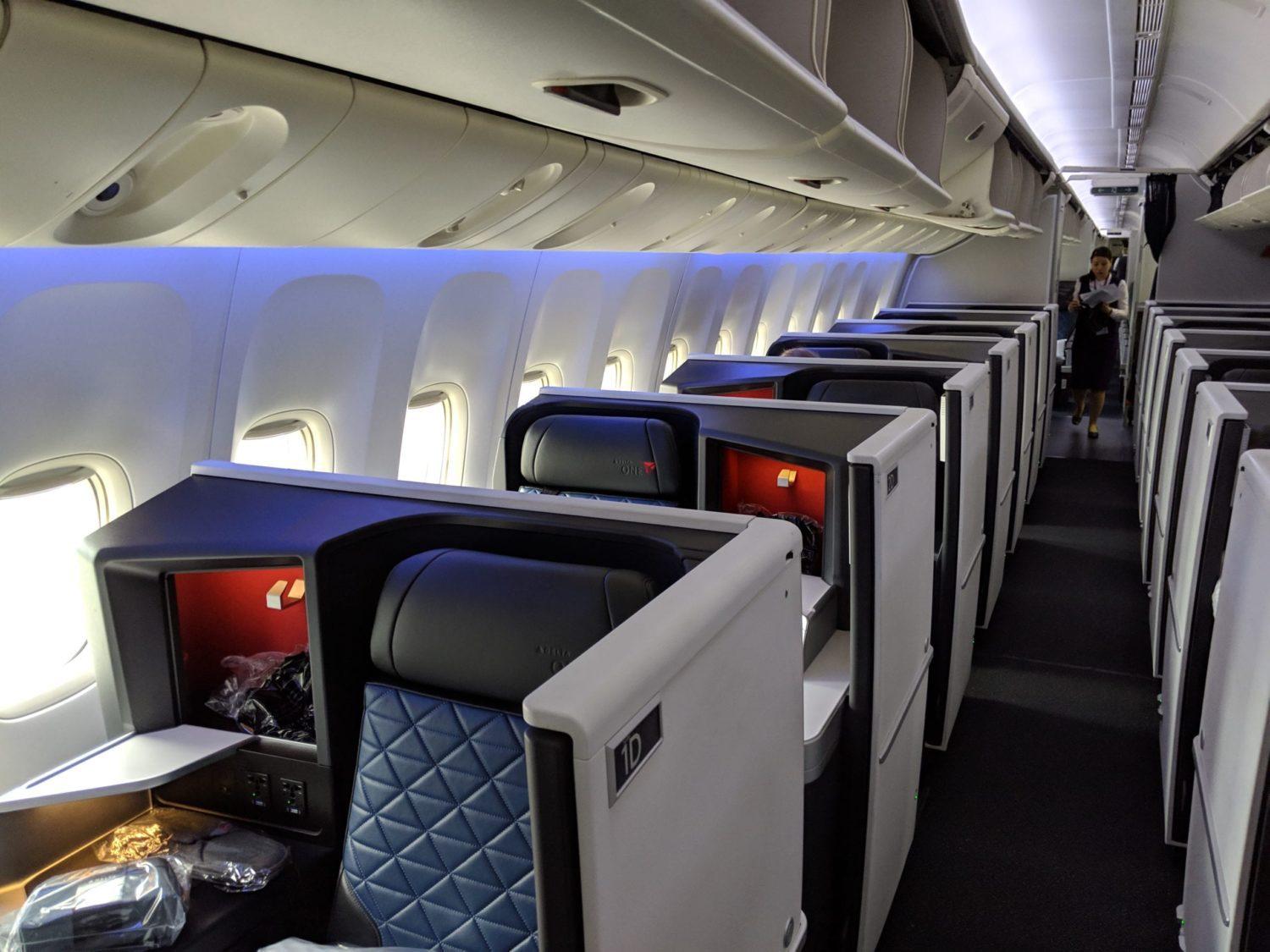 Check our full list of routes that are currently flying Delta One Suites. Play it right and you can score a suite on one of these routes for just 50,000 Virgin Atlantic miles.
With prices as low as 60,000 miles via Virgin Atlantic, there are far more options to get to Asia in a Delta One suite. Just be sure to snag a flight that's also selling Premium Select seats – these planes have the suites on board. 
How to Book
Now it's time for the hard part. Except it's not hard at all if you can be a little flexible.
While Delta's award prices when using SkyMiles can jump all over the place, Virgin Atlantic's are far more stable. A one-way flight on Delta within the U.S. is 12,500 Flying Club miles every time. A ride to Europe in Delta One will always be 50,000 miles.
The trick is finding the award availability at that price. It's either there, or it's not available at all. And there's little rhyme or reason behind when a Delta award seat is available through Virgin Atlantic. It can be spotty, but still easy to find a flight that works if your date of departure isn't set in stone.
Check out flights Delta One flights between Detroit (DTW) and Amsterdam (AMS) this fall. There are several dates you can snag not just one, but four-plus seats in Delta One for 50,000 apiece. 
A good starting point is to search for nonstop award availability in the route you're eyeing through Delta.com. Make sure you're searching for Delta One awards with a 5-week calendar. Look for dates where you can fly nonstop in Delta One for 86,000 SkyMiles – the airline's base price for these award flights. It won't map over to Virgin Atlantic availability exactly, but can be a good guide to finding that cheap, 50,000-mile flight you want.
And sometimes, you can get those dirt-cheap rates even when Delta is charging a small fortune in SkyMiles. So the best thing to do is simply use Virgin Atlantic's 5-week search function.
Once you've zeroed in on the flight that works, transfer those Chase or Amex points to your Virgin Atlantic account. And there's no need to worry about your flights disappearing, as these transfers are typically instantaneous.
Congrats! You just booked a nearly $10,000 flight for $5.60.
Bottom Line
Points and miles can be incredibly powerful. But this example takes the cake. Using this amazing partnership between Delta and Virgin Atlantic, you can book the flight of a lifetime for the price of a good cup of coffee.